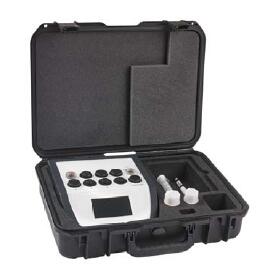 Chamber Integrity
The HygroCal100 has a test chamber milled from a solid pieceof Acetal, with minimal sealing points, ensuring the integrity required to maintain <5% RH from laboratory ambient temperatures, and ±0.5% RH uniformity across the chamber.
Portability
The HygroCal100 can optionally be fi tted with a high capacity battery pack, which can power the generator and 7 sensors under test for up to 8 hours. The unit can also run from mains power while charging the battery.
An optional hard carry case is also available with the unit. This has space for the HygroCal100 itself, in addition to the battery charger, spare water and desiccant.

Integrate Your Own Reference
The HygroCal interface allows you to assign any hygrometerwith an analog output as your reference device, giving you the fl exibility to incorporate your traceable reference in your validation routine.
Automated Validation
The HygroCal100's advanced UI allows you to defi ne your own calibration procedure, point-by-point, assigning times to each condition to allow your probes under test to stabilize. The system always waits until the conditions in the chamber are completely stable before beginning the check.
Correct Chamber Control To Your Own Reference
To ensure continual long term stability of the chamber, the inbuilt calibration correction system can compare the readings of your traceable reference to a range of pre-set generated conditions – making adjustments to the control sensor to ensure that your set point always matches your own reference.